You have a Meetic account? And you have found love or are safe from it, and you want to permanently close your account ? Here is the procedure to follow to close it definitively, and completely delete your personal data, so that they are no longer kept by the leader in dating sites.
5 clicks to close your Meetic account (and delete your data)
Follow the procedure below in order to be able to close your Meetic account, and permanently delete your data (such as your messages, images and profile information). Be careful, you must request the termination of his profileand not suspend it, as you initially suggested.t Meetic, since in the case of an Account suspension, meetic will keep your data, and it will be automatically reactivated, if you try to connect to your profile again.
And you will see that Meetic will try to dissuade you to delete your personal information!

The steps to follow to close your account and delete your data
If you want close your account, and delete your profile information (photos, conversions, profile information etc.) you will have to carefully follow the 5 steps following.
1. Go to your personal account,
at the top right of your profile.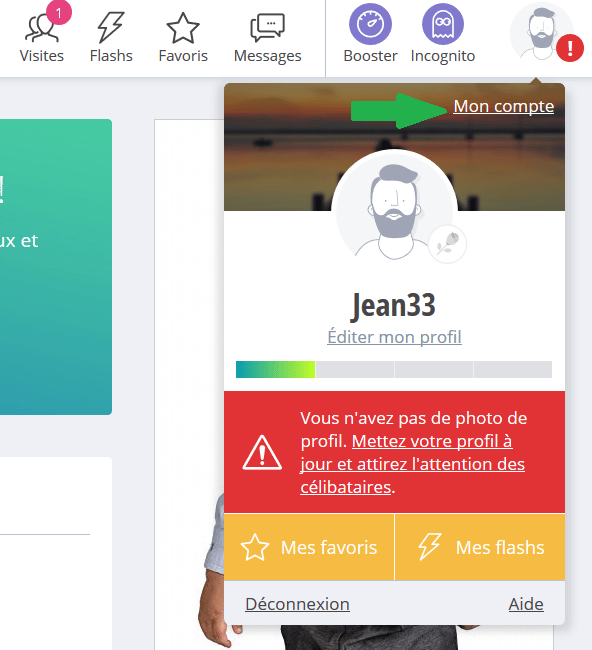 2. Click on "Suspend my Profile",
at the bottom left of your personal account.


3. Then ask to delete your account
(and not suspend it).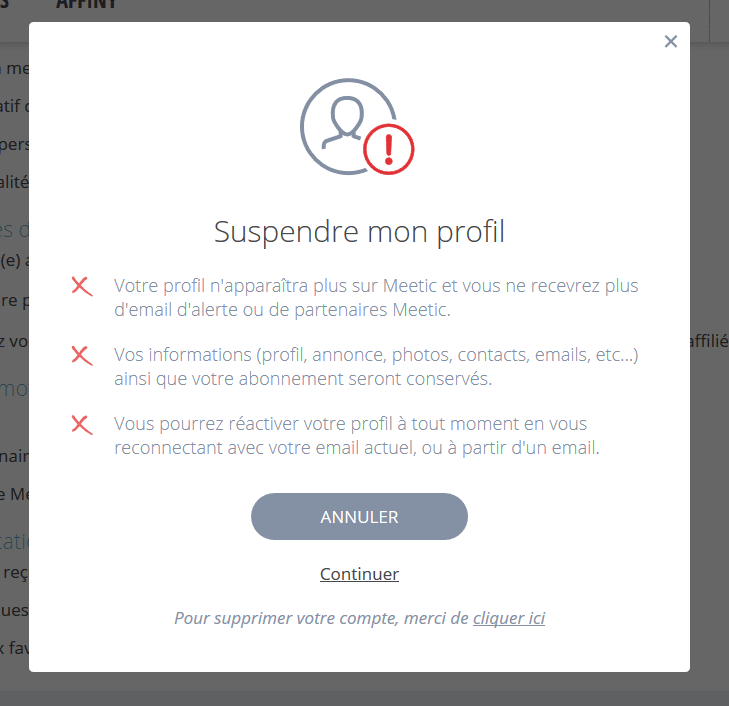 4. Next, confirm the deletion of your account
(and don't listen to Meetic's suggestion).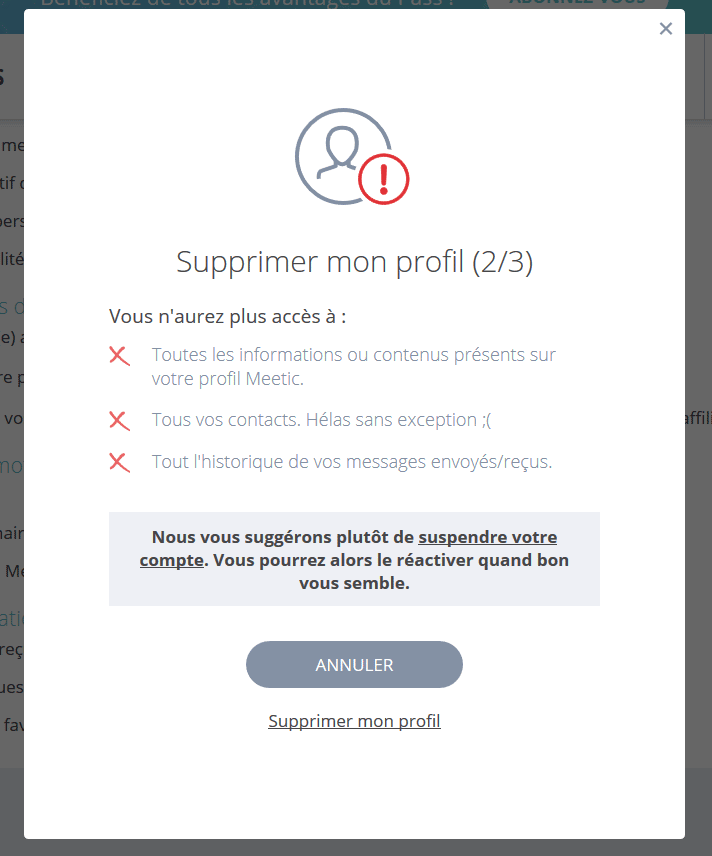 5. Again, confirm your wish to delete the profile.
If you change your mind, you can always recreate one later.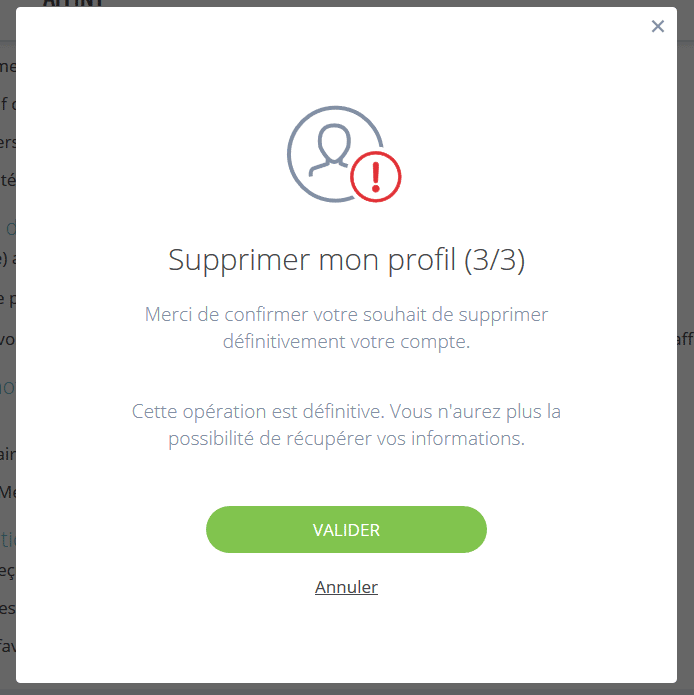 6. Finally, you will receive a confirmation email for closing your profile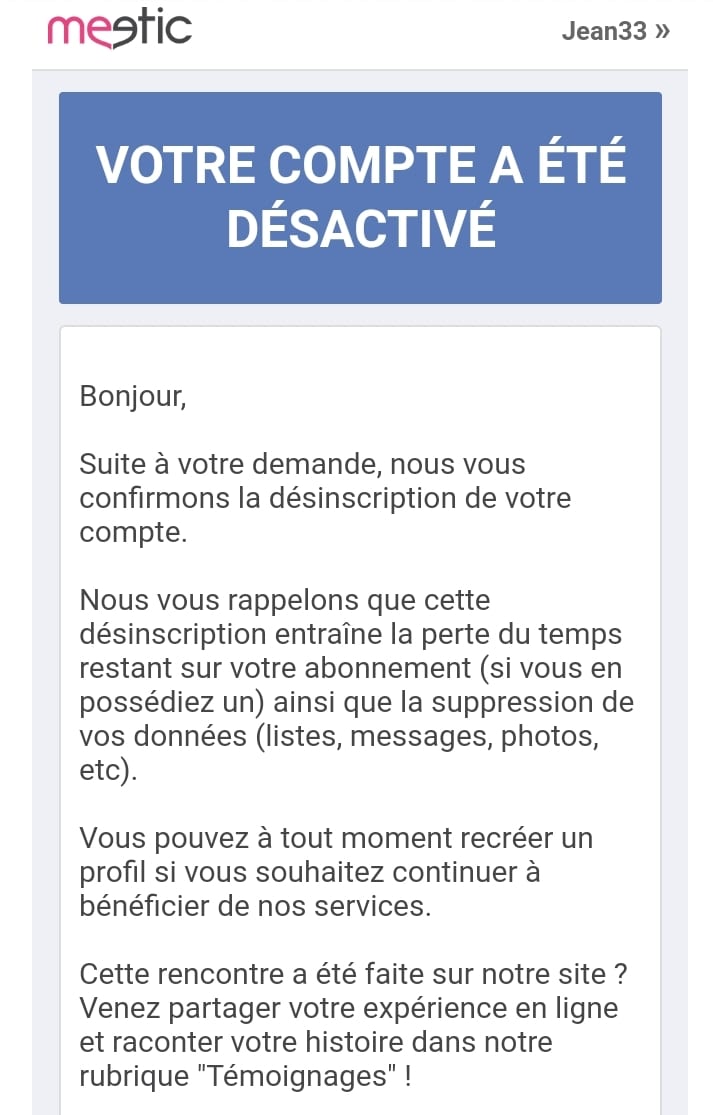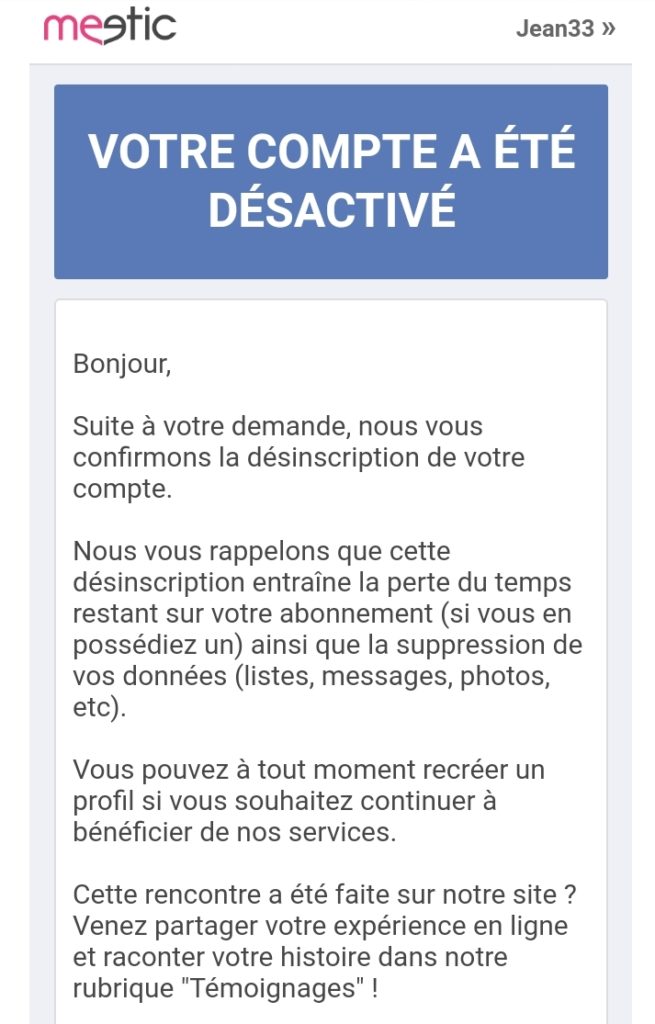 So, from now on, Meetic souldn't no longer have any information on you in its database.
Request a copy of your stored personal information
Note that according to the CNIL, you can ask Meetic personal information concerning you that they have in their possession, and that they are obliged to communicate to you. You just need to mention articles 12.3 and 15 of the general data protection regulations, through a registered and acknowledgment of receipt to the following address, Meetic, BP 109. 92106 Boulogne Cedex, and they will have to communicate them back to you within 1 month, otherwise you will have to sue them. In this recommendation, remember to indicate your member identifiers, a photograph of your identity card and proof of address, so that Meetic can ensure that it is responding to the right person.
Furthermore, it should be known that legally, Meetic has the right to keep information, which may be necessary later in the context of legal proceedings, for example in the case of a complaint between members. Note that you can apply this same procedure to Affinity, SayTomorrow et Tinder, which are also three brands of the Meetic group.
Other video tutorials
That's it, and if not, you can consult our list of 118 dating sites in France, et ask the questions that you wish in the comments below.
Sources :
https://www.gentside.com/meetic/meetic-comment-supprimer-son-compte_art84165.html
https://www.meetic.fr/faq/compte-et-connexion/comment-me-desinscrire-supprimer-mon-profil-et-mes-donnees/
https://tuto-supprimer.fr/comment-supprimer-un-compte-meetic-avec-ou-sans-abonnement/
https://www.resilier.com/guides/famille-scolarite/desinscription-meetic-mobile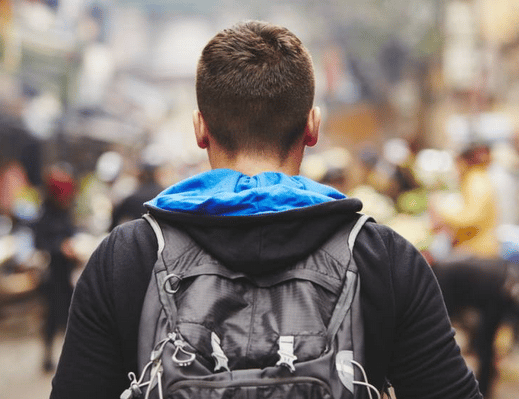 I created stat-rencontres.fr to help you choose the dating site that statistically matches you.
In fact, I've always had "couple arranger" fibre, to help my friends find shoe on their feet.. which is already the case for me.
find the channel Youtube of Stat-Dating ici.
If you have some reactions / questions, you can put them in the comments, With pleasure,