[Étude] The impact of the Coronavirus on the behavior of French singles

In France, 8 million people are currently singles (according to INSEE), of which 33% are registered on a dating site or application, which they consult at least once a week. In total, it does so 2,640,000 French people (on average) who connect onlinefrom their PC or Mobile, and at least once a week, in order to find a soul mate.
Purpose of the study : With the arrival of the Coronavirus, the obligation of the confinement at home, the fear of receiving (or transmitting viruses), and finally, the impossibility of meeting physically, what about behavior of the French?
The lessons of the study

Since the speech of the President of the Republic, Emmanuel Macron, on March 16, 2020, invoking each of the French men and women to stay at homethrough national confinement, unless there is a compelling reason to go out.
As a result of this confinement, it results in the following behavioral changes :
Audience drop of 45% for dating website consulted from a computer (ex: AdopteUnMec, EliteRencontre)
Audience drop of 65% for dating apps with geolocation (ex: Tinder, Hppn, Once or Grindr)
Drop in audience of 70% for sites organizing singles outings (e.g. OnVaSortir, CpourNous or ExitBouger).
The decline affects age categories, with a more marked decrease on sites intended for Seniors (60 years and over), with a 75% drop in daily connections.
Note that « only » the swinger dating sites fared better, with an average drop of only 20% in audience.
Extrapolating, this makes an estimate of 1,100,000 French who are withdrawn from use dating sites and apps.
Single Behavior Infographic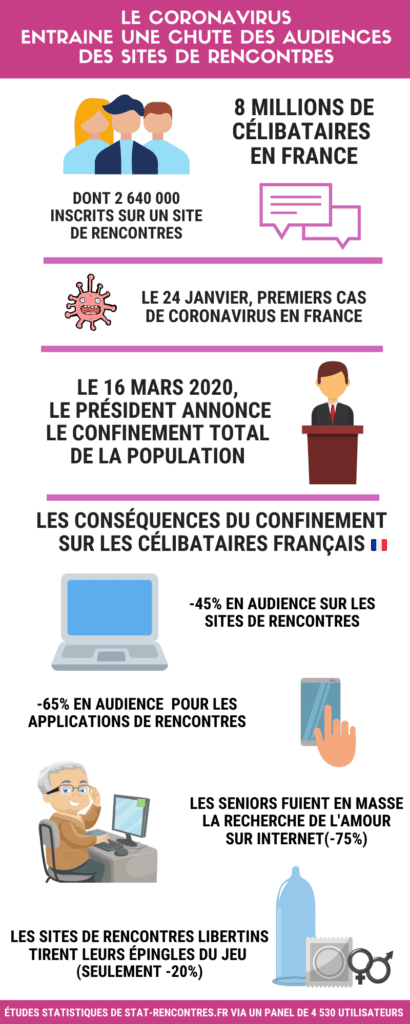 (you can resume infographics in your media, if you quote the source url. Thanks)
The consequences for French singles
Thus, the sites and dating apps are experiencing an average decline 55% of their audiences (all the panel taken into consideration), which results in a flow of new registrations halved, as well as members already registered, who return less regularly.
The duration of confinement that can last 45 days (average estimate), see more, a majority of singles make the calculation that it is  » too early «  to engage in discussions, when they could only meet the person at a distant dateand still unfixed.
The positive point for singles who continue to connect is that this isolation makes it possible to have more time to get to know each otherby computer or telephone, before the big day of the long-awaited meeting.

Source of data : Data collected by stat-rencontres.fr via a panel of 4,530 users.

Link to press release : https://www.relations-publiques.pro/150578/coronavirus-pendant-le-confinement-les-francais-fuient-les-sites-et-les-applis-de-rencontres-chiffres-et-infographie.html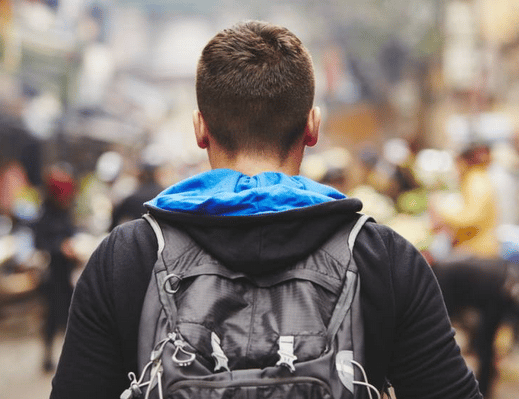 I created stat-rencontres.fr to help you choose the dating site that statistically matches you.
In fact, I've always had "couple arranger" fibre, to help my friends find shoe on their feet.. which is already the case for me.
find the channel Youtube of Stat-Dating ici.
If you have some reactions / questions, you can put them in the comments, With pleasure,