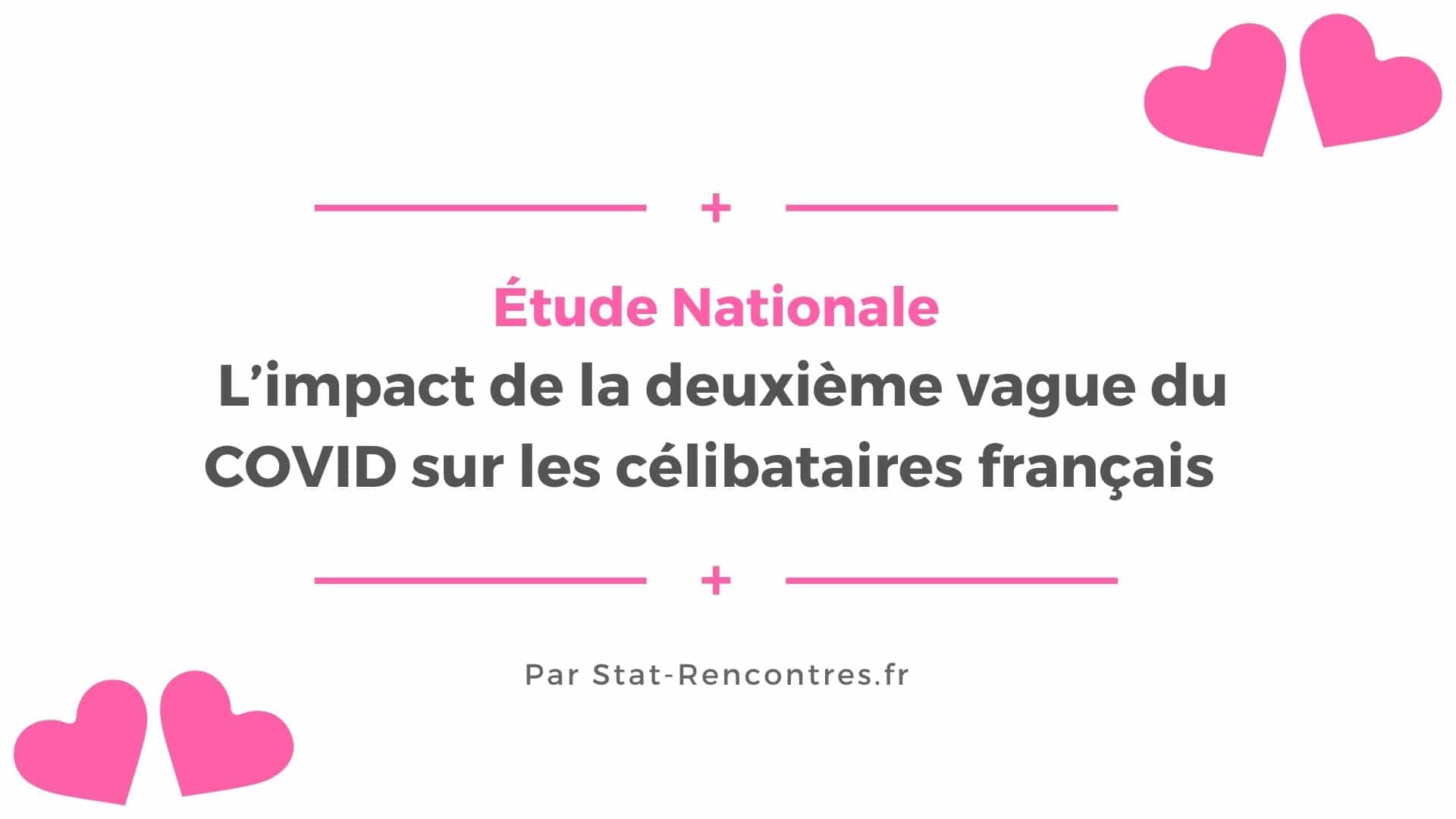 [Étude nationale] The impact of the second wave of COVID on French singles

Purpose of the study : With the government obligation to carry out a curfew from 6 p.m.without the possibility of physical encounters, what are the consequences on the behaviour of the singles French ?
Figures of the single population in France
First of all, and as a reminder, here are some figures on the importance of celibacy in France:
In France, there 10 million people who live alone (figures Compass), the vast majority of whom are single people.
27% of single French people are registered on a dating site / application (digits of the French Statistical Society)
In France, about 25% of couples, formed in 2019, met via a dating site (extrapolation of the figures of Statesman for the United States).
The results of the study 🇫🇷

Since the speech by the President of the Republic, Emmanuel Macron, on October 28, 2020, and the announcement of the second curfew, this has resulted in developments following behaviors:
Average drop of 40% in the audience of dating sites in France

Nevertheless, the second containment had a lower impact on the first, which had known a 60% drop (versus pre-COVID period).
The category of the oldest impacted is still the Seniors (over 60) with a drop of 50% of their visits to dedicated dating sites.

To note that summer 2020, who has preceded this second confinement, had been particularly carrier for dating sites, with a 20% growth compared to 2019.
Results by type of dating sites



For a finer analysis, it isn results from the evolutions following by categories of dating sites:

Categories
Before March 16

Base 100 index

17/03 au 31/03

Premier confinement

1/04 au 11/5
12/5 au 29/10

30/10 au 31/03/2021

Second containment

General dating sites
100
55
110
120
80

Example

: Meetic, AdopteUnMec, EliteRencontre
Location-based dating apps
100
35
90
110
65

Example

: Tinder, Happn, Once
Senior dating sites
100
25
70
95
45

Example

: SayTomorrow, NosBellesAnnées
Libertines dating sites
100
80
85
110
85

Example

: Wyylde, Jacquie et Michel Contact
Sites for organizing singles outings
100
30
45
60
35

Example

: OnaVaSortir.fr, SortirBouger.com
Some interpretations of the results
By consulting these figures, it is possible to draw the following interpretations:
Faced with the uncertain duration of the second confinement, 40% singles already registered have signed up temporarily withdrawn dating sites

The seniorsbeing considered as a population at risk, have decided to put themselves more in withdrawal (50% of registrants) than the other age groups.

Nevertheless, this second confinement being less restrictive (and sometimes less respected), this

unsubscribe wave

option is less strong (-20%).

Some of the singles must tell themselves that the life must go onand that you have to move forward in your personal life.

Finally, dating sites (and applications) have experienced a record attendance during the summer of 2020 (compared to 2019), logical rebound effect.
Single Behavior Infographic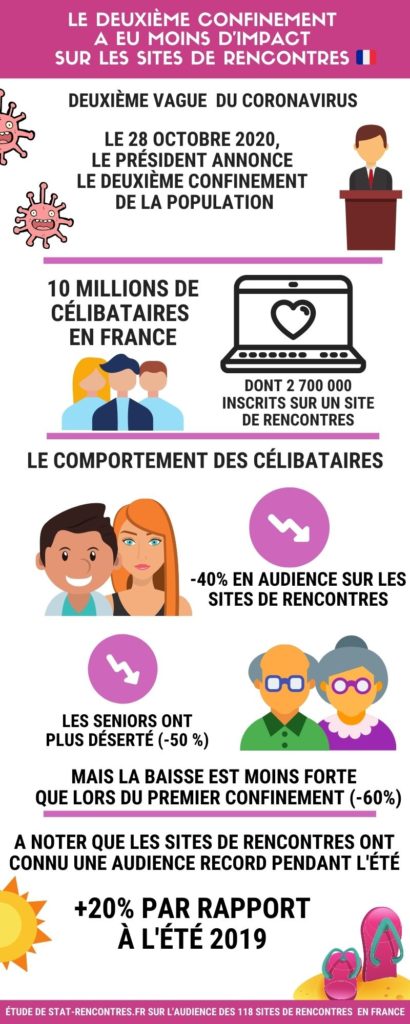 Source of data : Data collected by stat-rencontres.fr through the monthly audience of 118 dating sites in France 🇫🇷.

Press release : link to press release at format pdf

If you have any questions, you can ask them in the comments.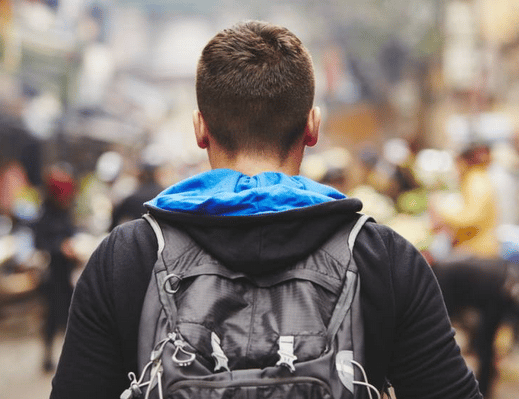 I created stat-rencontres.fr to help you choose the dating site that statistically matches you.
In fact, I've always had "couple arranger" fibre, to help my friends find shoe on their feet.. which is already the case for me.
find the channel Youtube of Stat-Dating ici.
If you have some reactions / questions, you can put them in the comments, With pleasure,