Are you considering registering for the leading dating site in France, and you want to know in advance its rate for men, find out if it is free for women, find out if there are tips and tricks for benefiting from promotionor what are your rights for retractions once subscribed. We tell you everything! What is the real price of Meetic? Free or Paid? All to know in 5 points!
Introducing Meetic
Meetic account 1.2M unique visitors per month, and is the most popular dating platform in France. The site was created in 2001 by Marc Simoncini, before its IPO in 2011, and its acquisition by IAC in 2015. Now, it is the same company with Tinder, DisonsDemain, Meetic and Affiny. We have produced an infographic, in which you can find 19 statistics on this dating site.
What is the real price of a Meetic subscription? (Proofs Inside)
The minimum price of Meetic is of 9.99€ per month, based on a 6-month commitment. At this price, you are committed for 6 months, with tacit renewal, if you do not click on the unsubscribe in the meantime. In addition, Meetic offers packages for shorter durations, but you will have to pay full price, up to €39.99, if you decide to take advantage of the unlimited « zen » option.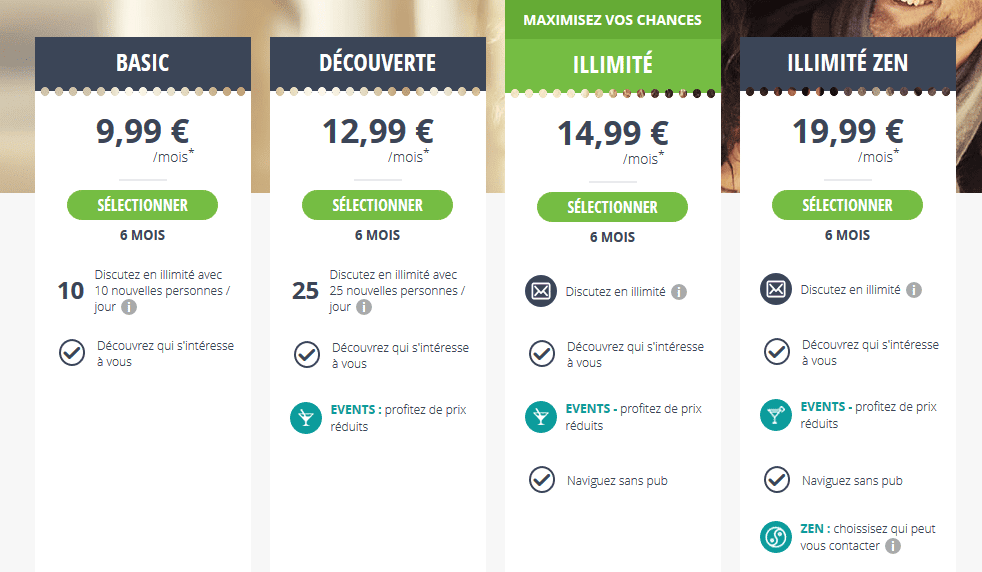 Our recommendation is to stay on a "Basic" packageover a period of 6 months, with a monthly average of 9.99€, which will leave you time to meet several people, see to be able to relaunch following a love affair which did not yield the expected fruits.
Answers to questions about Meetic.fr offers
Our response to the various questions regularly asked about bons-plans to subscribe:
Is there a 3 day free trial on Meetic?
In the past, Meetic has proposed free periods 3 days of affiliates, in order to encourage people to test the site, and then possibly subscribe. Nevertheless, it seems to have stopped this business practice a few years ago, since we have not recently found traces of a 3-day free trial period.
Meetic offers discount codes?
To our knowledge, Meetic does not offers no discount code. At least, at the time of this writing. This is not their strategy. This consists of offering a free registration for everyone, a package with few services at a low price (from 9.99€), and then to charge more, if you want to benefit from more options.
Does Meetic make offers on private sales?
To consult Vente-Privée very regularly, I have unfortunately never seen an offer of Meetic, DisonsDemain or Affiny on Vente-Privée. The site favored the fact of lowering the monthly rates, from 9.99€ per month, whereas they were previously from 29.9€ per month. The goal being to reward subscribers who are looking to register directly, versus those who are waiting for a good offer to register. Indeed, they know that in this situation, singles will wait for a "Vente-Privée Meetic" offer to register, which would reduce the flow of full rate subscriptions.

Does Meetic offer promotions or discounts?
The answer is yes ! But you need to have a member account for that. That is to say that at certain times of the year, Meetic offers promotions to registered members, but who are not paying subscribers, in order to motivate them to switch to the blue card. To take advantage of it, you must create an account (here for free), fill in his email address correctly, and wait to receive an email with a proposal for a reduction on his subscription.
Example of reduction proposed by Meetic for Affiny (which you will receive in your mailbox a few days after registration):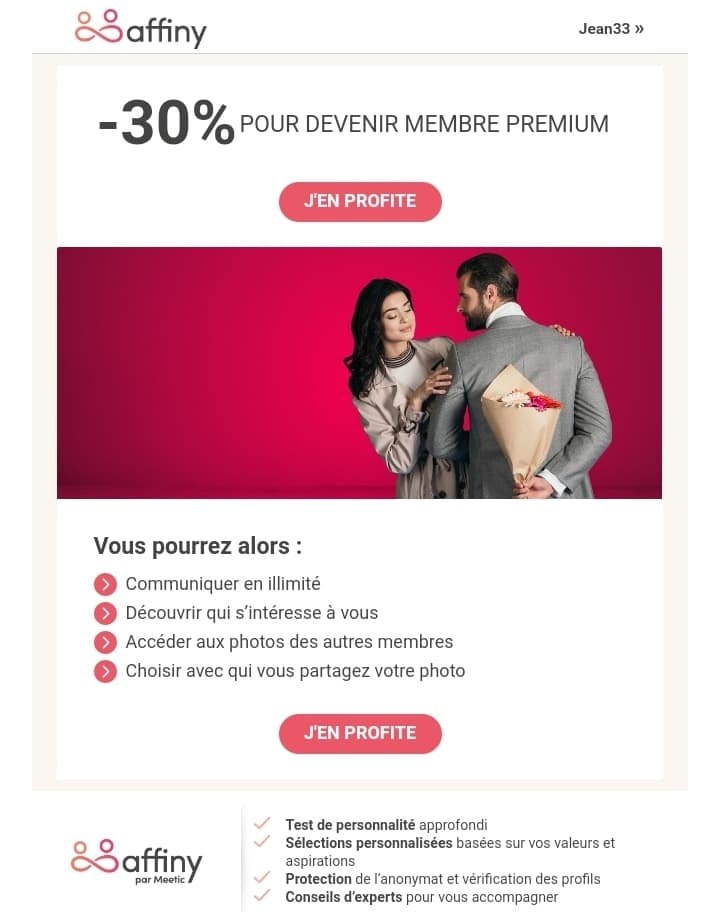 Free Meetic for Men & Women: Myth or Reality?
Update on the situation of free admission for men and women.
Is Meetic free for women?
Historically, Meetic was paying for men and free for women. Marc Simoncini, the founder, had understood that the arrival of women (attracted by free access) will push men to take monthly packages, in order to be able to exchange with the gentle ones.
Nevertheless, and over time, Meetic has become a common word to designate a dating site, and the success helping (1.2M visitors per month), Meetic realized that they were not losing many registrations of new members, in imposing billing for women of service. This is now done, and women are obliged to pay for the basic message, in order to be able to exchange with other members.
On the other hand, and unlike men, they will not have not to subscribee to a paid plan additional to increase their visibility, since women are extremely solicited there, even the less beautiful among them, with about ten messages on average per day.
What alternatives to Meetic for women?
Ladies, if you absolutely do not wish not pay for a dating site, you can go to Tinder, an application in which you will find a large number of suitors. The flip side is that men (for the majority) don't pay on Tinder either, and you risk getting fall on the run-of-the-mill, and particularly men looking for a sexual relationship. A serious and sincere man in his approach, and wanting to find a long-term relationship, is normally willing to pay a subscription of 19e per month.
However, we can also guide you on HugAvenue (for those under 30), Edarling or EliteRencontre (if you are over 40), other so-called « serious » sites where you should find well-meaning and sincere singles.
Can Meetic be free for men?
On Meetic, theregistration has always been free, but the possibility of exchanging via messaging with women is chargeable. Sometimes, some women do not want to pay, and some even indicate on their profile, as a catchphrase, that the gentlemen can find them on Facebook, indicating their names. It works until someone from the moderation comes to delete this information. On the other hand, this would not work for men, since women are déjà widely requestedso as not to have recourse to this kind of « hack »
What alternatives to Meetic for men?
For men, it is unfortunately often necessary use your credit card in order to find a dating website of which the male-to-female ratio that is decent. For example, Tinder is a solution that can be free, but which has 34% of women for 66% of men, unlike Meetic, where the rate is more balanced, with a 49%/51% distribution. Moreover, if you are not satisfied with your experience on Meetic, you can consider registering on more elitist sites, such as Edarling or EliteRencontre, while waiting for the arrival of Facebook on the market.
How to cancel your Meetic account & direct debit?
Once you subscribe, you have to wait 24 hours in order to cancel auto-renewal of the direct debit (this is a little trick from Meetic so that you forget to cancel the termination of direct debits). And moreover, the deadline to do so is 48 hours before its renewal. So, as soon as you register, put a note somewhere on your desk to think about what to do.
Then you need to go to  » My account » -> « Manage my subscription and finally, dorders rescissionn (despite Meetic's solicitations to prevent you from doing so). Know that you can enjoy your subscription for the entire period subscribed initially, even if you tell it to stop auto-renewing.
Is it possible to get a refund for my Meetic subscription?
According to french lawyou have 14 days from when you take out your subscription to request a refund. Meetic you will reimburse on a pro rata basis the duration of consumption of your subscription over the total duration taken. After 14 daysyou will not have more recourse to request a refund. You will only be able to cancel the automatic renewal.
How do I contact Meetic customer service?
To contact customer service, it is best to send a registered letter with acknowledgment of receipt to Meetic, BP 109. 92106 Boulogne Cedex, remembering to specify the identifier of your account and the subject of your request. This is your assurance of getting a proper response. You can additionally make a request by email, at faq@meetic.com, or via the formbut it's a safe bet that they ask you for a registered letter, in order to process your refund.
In addition, the site offers to contact an advisor via the 01 70 36 70 34 or to 01 70 36 03 70, Monday to Saturday, and from 9:00 a.m. to 6:00 p.m., at the cost of a local call. An advisor will be able to take your request.
That's it, and also check out our statistical study in 19 points on Meetic members.
feel free to ask your questions on Meetic or of share your opinion in the comments below: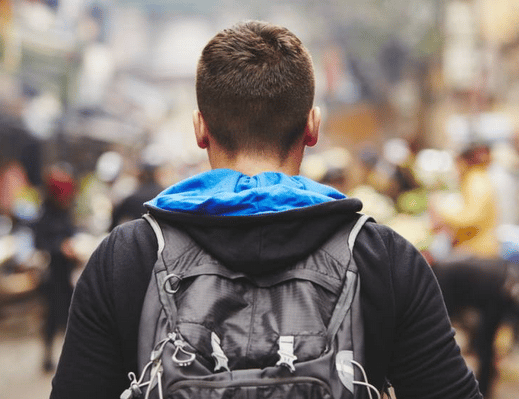 I created stat-rencontres.fr to help you choose the dating site that statistically matches you.
In fact, I've always had "couple arranger" fibre, to help my friends find shoe on their feet.. which is already the case for me.
find the channel Youtube of Stat-Dating ici.
If you have some reactions / questions, you can put them in the comments, With pleasure,